The first novel in The Telepath Trilogy!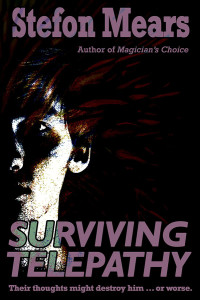 Print Book Links:
Amazon
More coming soon!
E-book Links:
Amazon
Smashwords
Kobo
iBooks available through the app!
Nook version coming soon!
Their minds might kill him … or bow down before him.
Rick Blackhall's perfect moment goes straight to hell. A jealous fist shatters his dreamed-of kiss in front of his graduating class. The focused attention awakens his telepathy, driving him into a coma.
Now Rick's awake, but thoughts all around him suffocate him, throttle his mind. Worse, the girl's ex- wants to kill him and his best friend hides a dark secret. How can Rick learn to control his telepathy before it destroys him? And if he does, how can he avoid the seduction of power?
Surviving Telepathy, the latest novel from Magician's Choice author Stefon Mears.