Thousand Faces Publishing is thrilled to announce the incipient release of Stefon Mears' first novel: Magician's Choice.
Praise for Magician's Choice from Bruce Holland Rogers, author of The Keyhole Opera:
"In the future of Magician's Choice, magic has displaced science, but magic takes as much rigor to operate as technology ever did. Stefon Mears weaves an entertaining space opera out of tuning forks, duels, and dragon familiars. The result is an impressive debut novel."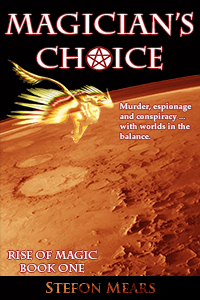 Academic wizard Donal Cuthbert thought courier work would be easy money. But after someone tries to blow him up, Donal must navigate a web of lies, murders, and corporate espionage, including a beautiful liaison who might be his ally … or his greatest enemy.
Helioship captain John Jacobs faces financial ruin unless this Mars-Earth run goes perfectly. But squabbling crew members, threats from deep space, and a passenger complement full of conspiracies might destroy his ship en route.
Together Donal and Jacobs find themselves facing a choice … with the fate of worlds in the balance.